Avatars in the Creator Economy
You have probably heard of celebrities spending huge on a Bored Ape Yacht Club (BAYC) NFT and seen them flexing it as their profile picture (2D avatar) on social media to represent their digital identity. Snoop Dogg and Eminem even took a further leap and morphed into their BAYC 3D avatars in a new music video. These are signs that in the future a new wave of content creators will express their creativity through avatars. In this post, we will elaborate on how Profile Picture NFTs (PFPs) used as avatars will play a key role in this development. We will further propose a typology for avatar design and identity options.
Immediately reaped benefits to content creators using PFPs are around leveraging the brand name of the NFT collection and being backed by its community in their content creation. Furthermore, the pseudonymous identity behind avatars reduces discrimination and bias toward talent. Therefore, we believe avatars will become the next influencers, musicians, youtubers, fashion models, bloggers, and teachers among others, and have their own fan following. RTFKT, a digital design studio acquired by Nike, is an example supporting this vision by giving NFT owners of its own PFP collection, Clone X, access to the avatar 3D file and full commercial rights. 
To start with, avatars in themselves are growing in population as social media platforms implement a range of avatar features. With people spending an enormous amount of time online and in virtual worlds, they want the best digital representation to express themselves – this representation is increasingly becoming this avatar. Let's deep-dive.
Regarding identity and digital representation see also our article about Fashion in the Metaverse.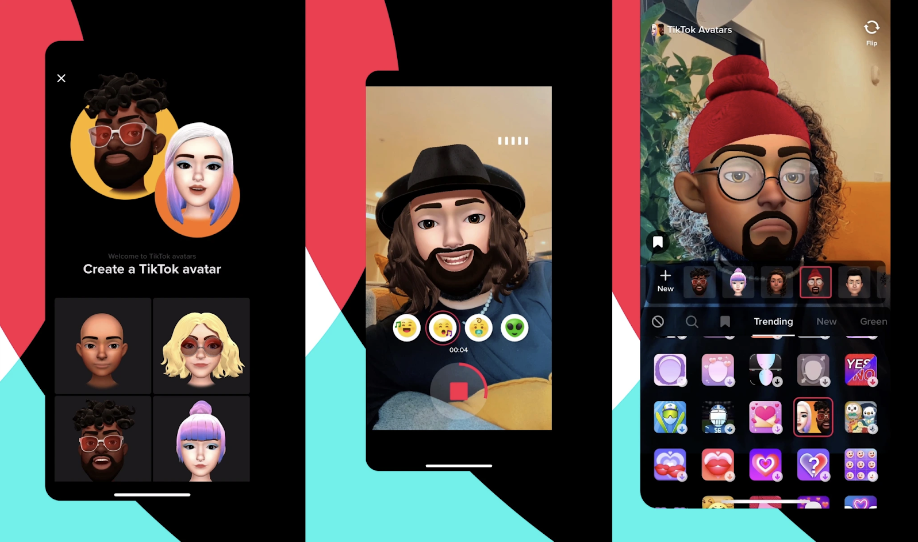 Mass Adoption of Avatars
Creating and customizing avatars has been trending for some time in the gaming industry and in web2 virtual worlds such as Roblox and Zepeto. Now we are witnessing the emergence of avatars for expression and as one's online visual identity across several social media platforms, the #1 distribution channel for content created.
These avatar features are now visible to over 3bn users across web2 platforms!
Growing up on the internet, Gen Z is the most inclined generation to embrace avatars which they see as an extension of their real selves. Additionally, 60% of Gen Z believe how they display their identity online is more important than how they present themselves in person. Using avatars to that end also enables them to display different identities and personalities. Kerry Murphy, the founder of our portfolio company "The Fabricant", describes this group as "Digi-sapiens" in Mission Mag: 
"Digi-sapiens are environmentally conscious, Digi-savvy, multi-device, collaborative beings. They are trendsetters, trend chasers, and early adopters of any technology that upgrades and frees up their existence."
The population of content producers within the creator economy is expected to expand largely as a result of a paradigm shift in how Gen Z, in particular, views work. They are more tended toward leveraging their passion and skills and making a living from their creations. Gen Z currently represents 30% of the world's population and is expected to make up about 27% of the workforce by 2025. The majority of Gen Z aspire to be entrepreneurs and stats indicate 29% of American high school students want to become content creators while only 11% want to follow traditional career paths.
The Intersection of Avatars and the Creator Economy
A number of people are already using avatar features available on social media to convey their everyday thoughts and feelings. Why can't content creators express themselves via an avatar?
Below we propose a framework of avatars that existing content creators are already using. We make use of a combination of avatar 'identity' and 'design' to classify avatars in the following quadrant.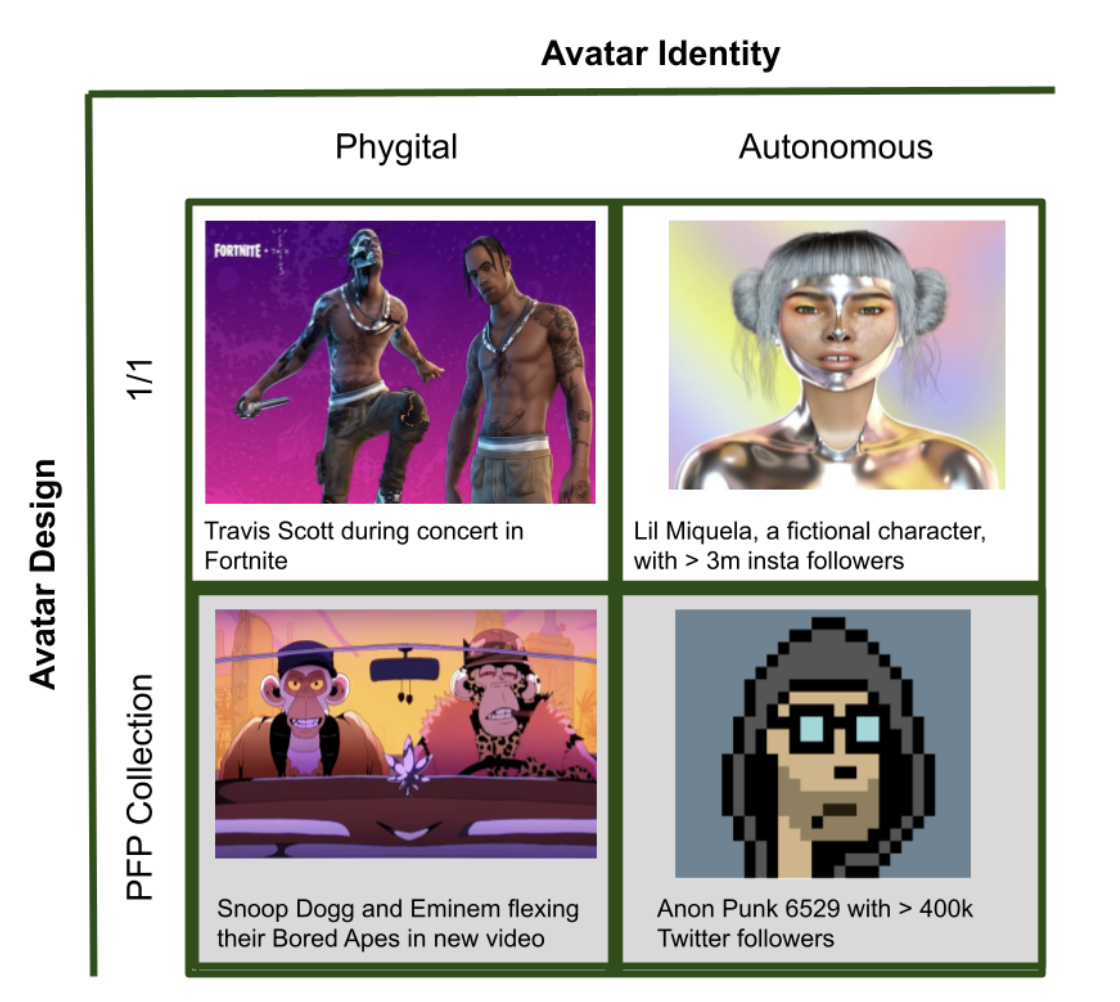 Avatar Identity
A key element sectioning types of avatars relates to their chosen portrait – the avatar identity can either be Phygital or Autonomous.
Phygital avatar
We define an avatar as "Phygital" when content creators portray their avatar as an extended version of their true selves and want both their real and avatar identities to co-exist. The avatar identity is directly linked to the creator's history, talent and success.
Celebrities commonly use Phygital avatars to target younger audiences and deliver new experiences to their existing fan following. As the quadrant shows, Phygitals include avatars mimicking the user's real appearance similar to what Travis Scott did with his digital twin during his concert in Fortnite.
Celebrities can also use PFPs with a resemblance or any other connection to their real-life character, while still performing according to their signature styles. In our showcase, Snoop Dogg and Eminem use their Bored Ape in their new video.
Autonomous Avatar
We categorize "Autonomous" avatars as conceived to have their own identity, distinctly dissociated from that of their creators. Although the avatar is owned and controlled by the content creator, it is born on the internet and becomes the creator's main character. The content creators can be individuals or groups and of course, it's up to them to disclose their real identities or use pseudonymous identities.
Autonomous avatars are currently prevalent among Virtual YouTuber (VTubers) who resort to a virtual avatar as a medium of streaming their content on YouTube and Twitch. Virtual CGI influencers are also rising in popularity as a distinct type of Autonomous Avatars: Lil Miquela, a CGI character with 3 million Instagram followers, works with brands like Prada and Calvin Klein and was named in TIME Magazine's 25 Most Influential People on the Internet in 2018.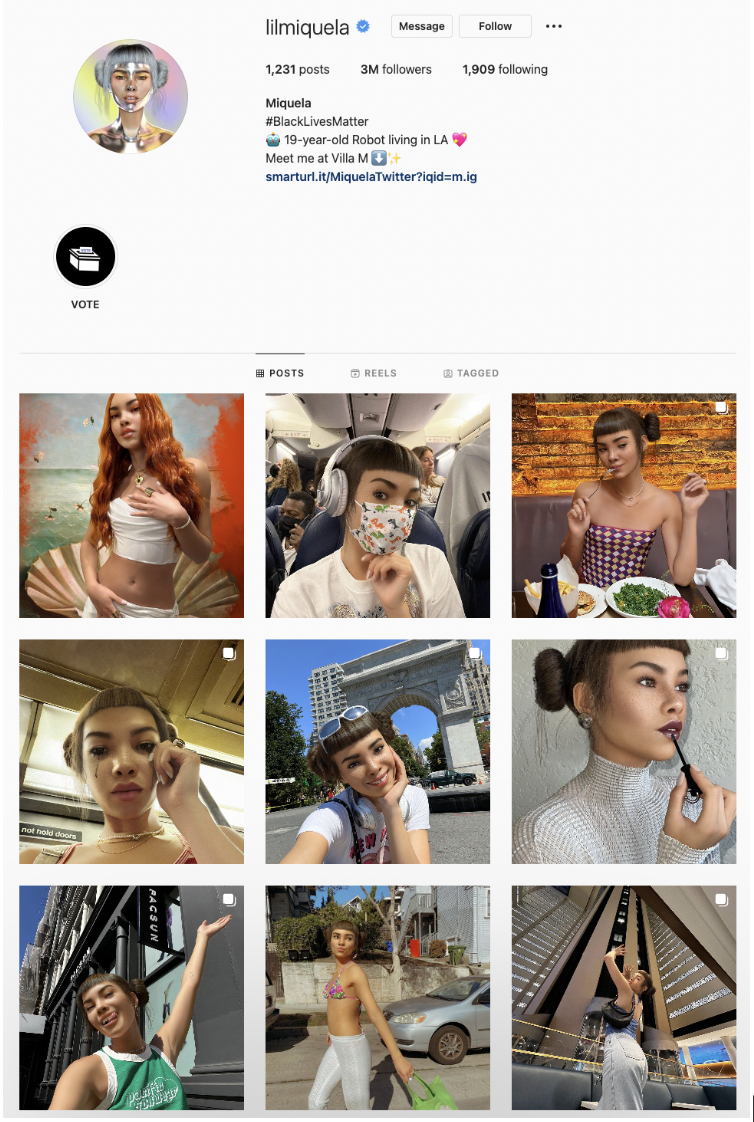 Brud, the company behind her creation, also created Bermuda and Blawko. Our portfolio company, Dapper Lab, acquired Brud in 2021, to pivot toward building the narratives with the community through decentralized autonomous organizations (DAOs). Lu do Magalu is another example with now over 6 million insta followers. And to think these are all fictional characters!
The Autonomous avatar type is also popular on Twitter with users who use a pseudonym and a PFP NFT as their profile picture. A case in point is Punk 6529, an anon influencer with over 400k Twitter followers. 
Avatar Design
Where can content creators get avatars from? They can either design a custom 1/1 avatar, or buy one from a ready-made PFP collection. 
1/1 Avatar
Content creators have the flexibility to customize their own avatar, not part of any PFP collection, and modeled from scratch either using avatar-building tools such as Genies (recently raised $150m at $1bn valuation) or Ready Player Me (recently raised $56m), or hiring a 3D designer.
1/1 avatars are common when avatars mimic one's real appearance, and people would want their real and avatar identities to co-exist (1/1 + Phygital avatar). Universal Music Group (UMG) has partnered with Genies, to develop 1/1 avatars for artists like Justin Bieber, Shawn Mendes, Rihanna, and Migos.
UMG stated: "UMG and Genies will equip artists with official virtual identities for use in Web 3.0 and the shifting age of the Internet, providing a persistent virtual representation of themselves across the metaverse to engage with fans in expressive and authentic ways."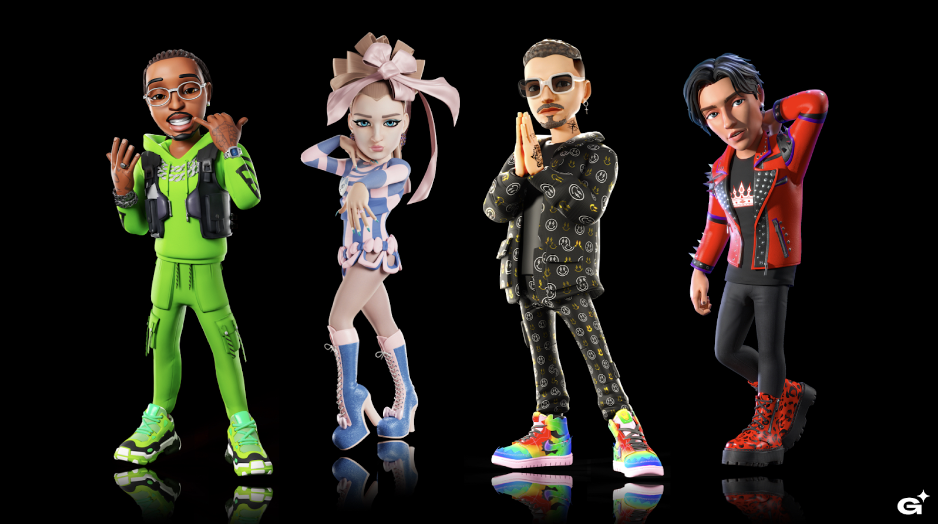 PFP Collection
The next option is buying an Avatar or PFP and expanding its use cases beyond a mere 2D profile picture by animating it to create content.
As mentioned above, this is popular on Twitter. We can also see celebrities spending hundreds of thousands of dollars on a PFP, flexing it as their profile picture on social media and making it a norm by the day.
Rationalizing the use of PFPs for content creation
Why might using PFPs be of most projected relevance in the creator economy?
Having brushed through the categorization of avatar types, we now explain the grounds for why PFPs could eventually be a favored avatar type for the new wave of content creators.
Community
The prime benefit comes from the community engagement extended to content creators, now part of the same clique. Using a PFP NFT as your avatar sends out an instant public signal that you are part of their respective community. The common "Follow for Follow" trend within the same community is a strong enabler to building an audience from scratch. Content creators can even choose to go for the PFP NFT whose community will most consume and enjoy their creations. Using an avatar from a PFP collection also implies that the content creator gets to leverage the brand name of that PFP. The content creator's implicitly linked reputation to a particular PFP nevertheless comes with potentially associated downsides – the BAYC controversy and failure of Azuki's founder are such examples. 
While we might think that the PFP community would be too small and larger audiences need to be acquired for content creators to make a living, in the new creator-to-fan model in which creators are being paid directly by the fans, they only need 1000 True Fans (a now often invoked concept) versus millions of fans. Besides, a community can feel incentivized to spread the word about the project (through retweets for instance) when PFP holders use avatars from their same collection to create content – a matter of pride in themselves being holders of that collection.


Unlimited creativity
Content creators opting for PFP avatars would largely be recognized through their PFP ownership. In that case, save for creators with an already established reputation in real life, it might not highly matter to link the content creator's real identity to that of the avatar. This could largely drive the adoption of PFP Autonomous avatars by all other clusters of content creators.
This is why in the long run PFP avatars could mushroom in mass popularity, mainly among Gen Z:
No discrimination

: Creators can publish content without the obligation to reveal their faces or identity publicly; they get judged purely on their content quality. 

Convenience:

Creators save ample time and resources, enabling them to focus on their content creativity, by eluding having to set up a home studio and getting dressed up before facing the camera. 

Creativity

: Avatars allow creators to portray themselves in their desired way, allowing them to experiment with different looks, genders, and identities.


Blockchain technology
To truly express ourselves and identify with our virtual selves, we need to have ownership of our digital identities. This is implicitly achieved when representing the latter by a PFP given NFTs allow for digital ownership. Content creators also get to carry their avatars across different apps and virtual worlds via NFTs. 
Co-creation, on the other hand, is honed by web3 acting as a facilitator to pool different skills and collaborate seamlessly online, whereby DAOs, NFTs, and Social Tokens all enable collective groups to co-create content. This again pieces together our predictions of PFPs intersecting with the creator economy.
Conclusion
When it comes to the consumption of created content nowadays, it is evident that patterns of content seekers have changed, with people spending considerable time online, mostly on their phones. The latter fact fuels the demand for more and varied types of content, nurturing the monetization abilities of aspiring content creators. This in turn boosts the growth of the creator economy. Now, we also highlighted the combined PFP benefits around brand name and community backing, and how an autonomous identity braces a focus on talent and unlimited creativity. This rationalizes how PFPs can become a sought-after option for up-and-coming content creators to create content. This option is even enhanced by the possibility of having more than one avatar, each with a contrasting identity delivering content to varied audiences. This can ultimately build up the interest of content creators in using PFPs. What does that change for us? Well, we can quite speedily see a different mode of content creation in a disrupted creator economy.