Building Automated NFT trading with Brink
by Felix Machart and Markus Hujara, Oct. 11
What do experienced traders do when they like a certain stock but not at the current price? They place a limit order and wait for a dip.  Brink is introducing conditional orders – a tried and tested item from the trader's toolbox – into the DeFi space. That's one of the reasons why we led the $3m seed round for Brink with the participation of Sanctor Capital, Ripio Ventures, Igor Barinov (CEO of GnosisChain), and others a while ago. In the mid-term, Brink is building toward a marketplace for advanced automation of NFT trading An important first solution on this journey has now been dropped: limit orders for NFTs.
This is the first episode of our new "Building" series.  With "Building" we pay tribute to portfolio companies that have recently achieved a significant milestone or breakthrough, contributing to an open, decentralized, and more robust architecture of tomorrow's web.
Brink is building critical infrastructure for automated transactions. It is a fully permissionless, non-custodial, and decentralized network that provides automated execution of transactions to the DeFi community. This summer, Brink released a smart contract protocol for EVM (Ethereum Virtual Machine). It provides limit orders and stop-loss orders for multiple crypto asset types. 
Brink is doing that without charging any protocol fees. Gas fees also only occur when a conditional order is actually executed.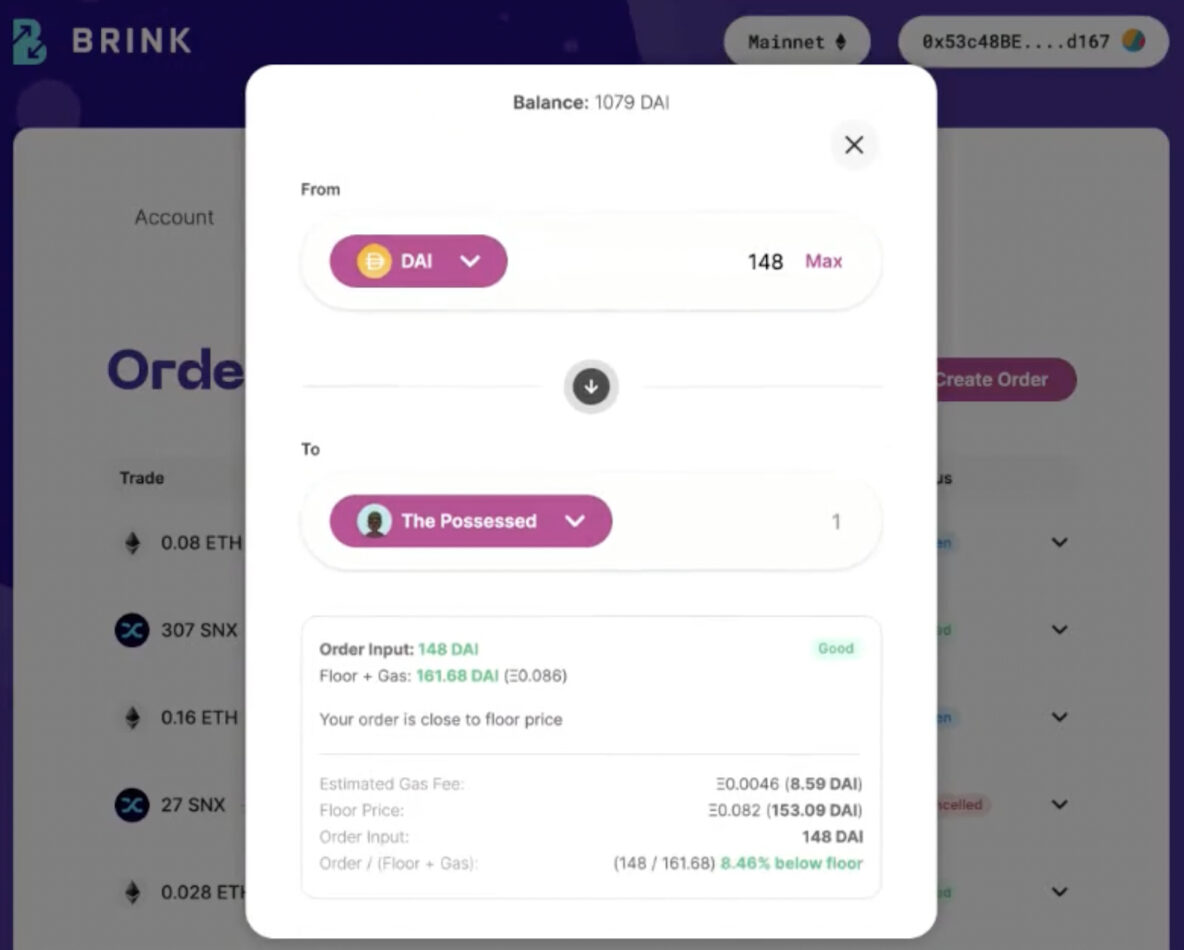 Now, Brink is able to support aggregated collection offers (and asynchronous buys) that work across all marketplaces, including OpenSea, LooksRare, and x2y2. The collection offers can use any ERC20 token. 
An example: let's say a crypto investor wants to buy an NFT below floor price, so she creates an order at that price. If any NFT gets listed at that price on any marketplace, it will be purchased for her automatically. 
We expect the DeFi market to continue to grow significantly in terms of volumes, range of assets, opportunities, and thus complexity. As a result, there is a need for secure aggregation services that improve UX and help users automate their financial strategies on multiple different fronts. As mentioned in one of our recent "Backing" posts regarding the NFT lending protocol Zharta, we are also committed to the growth of the NFT industry. Trading innovations like conditional orders will drive the financialization of NFTs further. Therefore, Brink is undertaking an important step for NFT adoption.
Coming up next: NFT marketplace for advanced traders
Brink's emerging NFT marketplace will focus on market makers and advanced traders, where participants will earn fees in return for providing liquidity. It will enable them to create passive LP positions, stop-loss orders, and bracket orders. These automated order types reduce the technical complexity and manual work involved in building and running custom NFT trading strategies.
DeFi and NFT markets are converging, and the landscape is becoming increasingly competitive. There is a huge need for such a platform that caters to advanced users and helps them trade profitably in today's market conditions.
Join the DAO!
Brink is led by a team of seasoned entrepreneurs as well as smart contract developers and security experts. While non-transferable governance tokens have been issued to the earliest active community members, there surely are more opportunities to get involved and participate. Check out the documentation, join the Discord server, and follow Brink on Twitter no matter if you are a DeFi user, developer, or intend to operate executor nodes for arbitrage profits!
Via the Brink app, you can try out the limit order functionality and the status monitoring for NFTs but also for ERC20 tokens. 
Keep on building, Brink!