Greenfield hosts its first annual summit
During last week's Berlin Blockchain week we held the first annual Greenfield Summit at the Soho House Berlin, an invite-only gathering of more than 80 industry experts. We invited some of our portfolio founders, co-investors and other thinkers in the crypto space to discuss the opportunity behind this emerging asset class.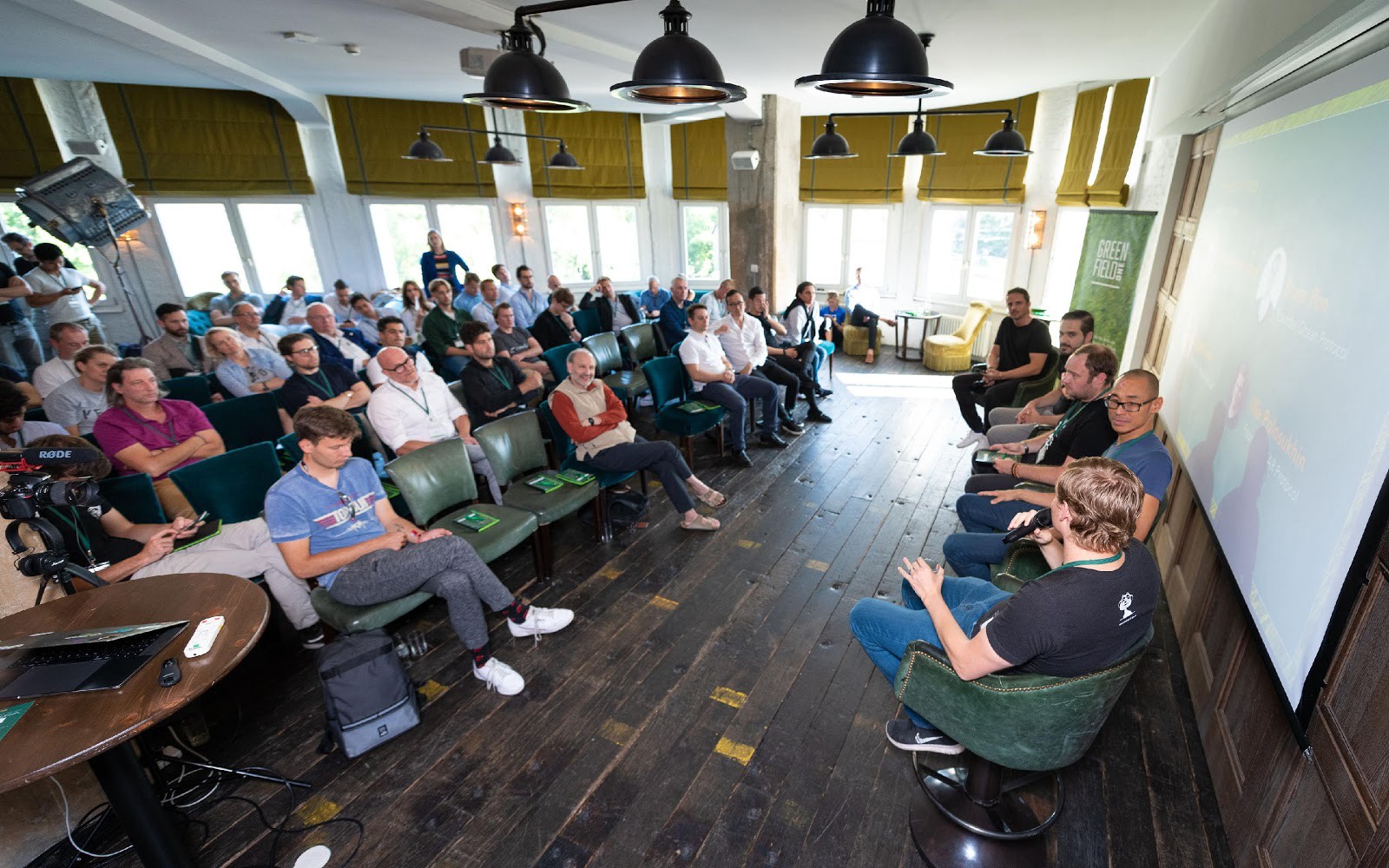 Berlin is the city of authenticity.
On the founders panel we were joined by Barney Mannerings from Vega Protocol, Illia Polosukhin from NEAR Protocol, Bruce Pon from Ocean Protocol and Hugh Karp from Nexus Mutual. They all shared their personal journey into crypto with us and also the excitement around Berlin as clearly one of the global hotspots in the space.
Bruce highlighted that New York was the city of money, San Francisco the city of power, Los Angeles the city of fame and Berlin the city of authenticity, which is why the city's culture and spirit has attracted many developers, thought leaders and projects in the space.
Having had careers either as founders or corporate executives, all four founders were great examples of talent from outside of crypto having moved into the space over the past years.
Hugh is an insurance guy by training and has worked in the industry for over 15 years — he shared with us why he believes that the concept of a mutual insurance will be able to be finally run at scale through blockchain technology enabling trustless coordination of funds.
Barney shared with us how diverse the core team at Vega is and why and how they brought together different team members with various professional backgrounds to build the first protocol for decentralized derivatives trading.
Illia told us about his vision for a scalable and user-/ developer-friendly smart contract platform which allows for easy develop- and deployment of decentralized apps as well as frictionless user-onboarding into crypto. He also pointed out why it is that decentralization matters to developers, which is something that was echoed by all founders on the panel to be able to achieve a more fair, inclusive and sustainable distribution of resources and assets on the web.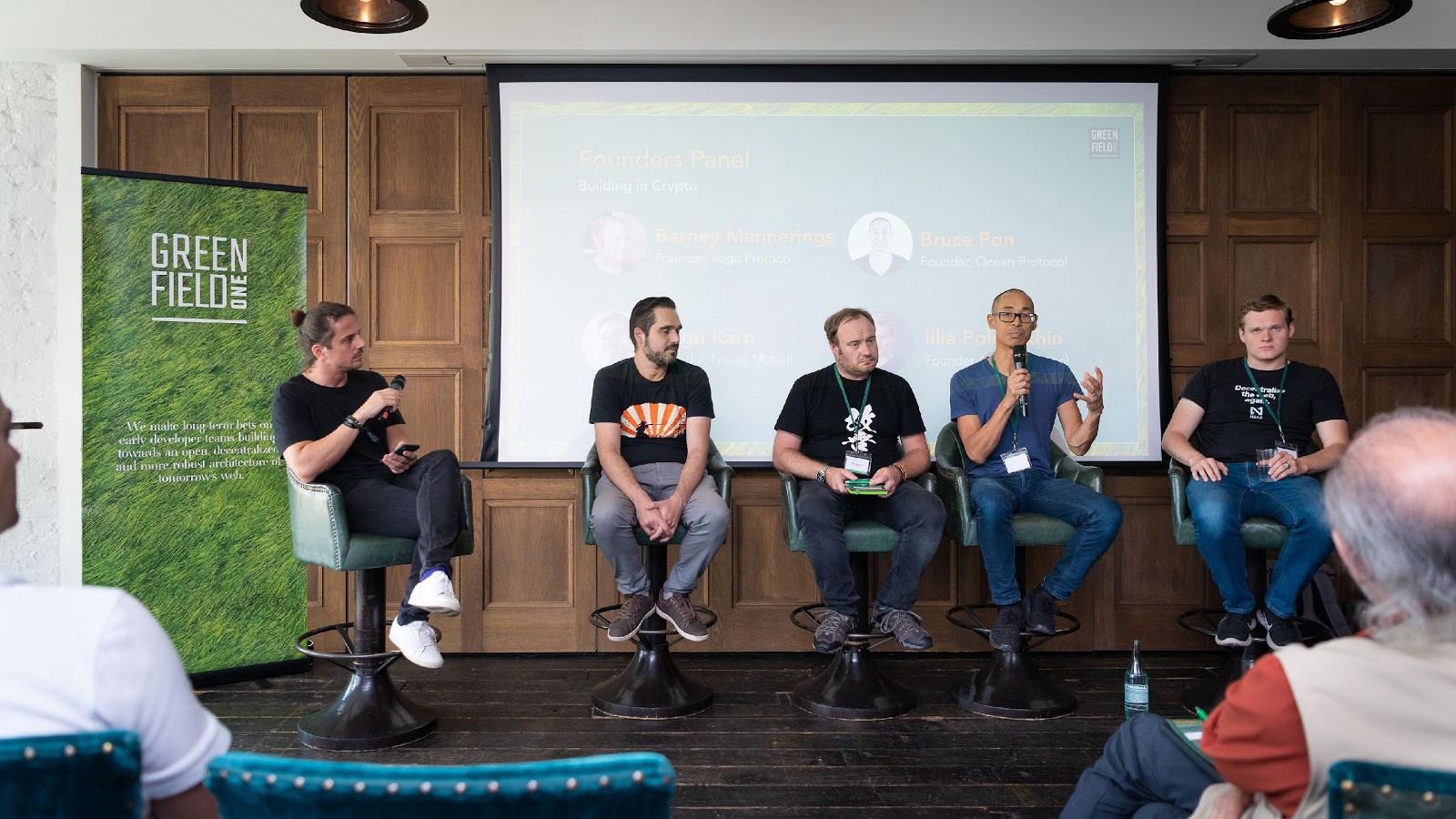 During the institutional panel we were joined by Christopher May, Founder of Finoa, Martin Kassing, Founder of Upvest, Daniel Resas, Partner at the law firm Schnittker Möllmann Partners (SMP) and Dr. Ulli Spankowski, Managing Director of Börse Stuttgart Digital Ventures, the Stuttgart stock exchange's digital asset business.
Germany offers sufficient regulatory clarity to founders in the space
Ulli shared with us the group's very forward-thinking and progressive strategy for digital assets and told us about their joint venture with media heavyweight Axel Springer to launch Germany's first regulated token exchange.
Daniel had a lot to talk about crypto regulation and the EU Token Regulation Paper to which he and his colleagues at SMP contributed to just recently. Regulation is an important building block for digital assets to thrive but also quite diverse across different European jurisdiction as he pointed out.
Martin shared his experience with regulation from a founder's perspective and made clear that he is actually quite happy with the current state of regulatory clarity and certainty provided by regulators in Germany.
Most recently German policy makers have passed a new law which requires a dedicated license for crypto custodians separated from a traditional banking license, as Christopher told us about — for an early-stage tech company like Finoa obtaining such a license under the new regulation would obviously create an extra effort to fight through the process, but he also welcomes the clarity that this comes with.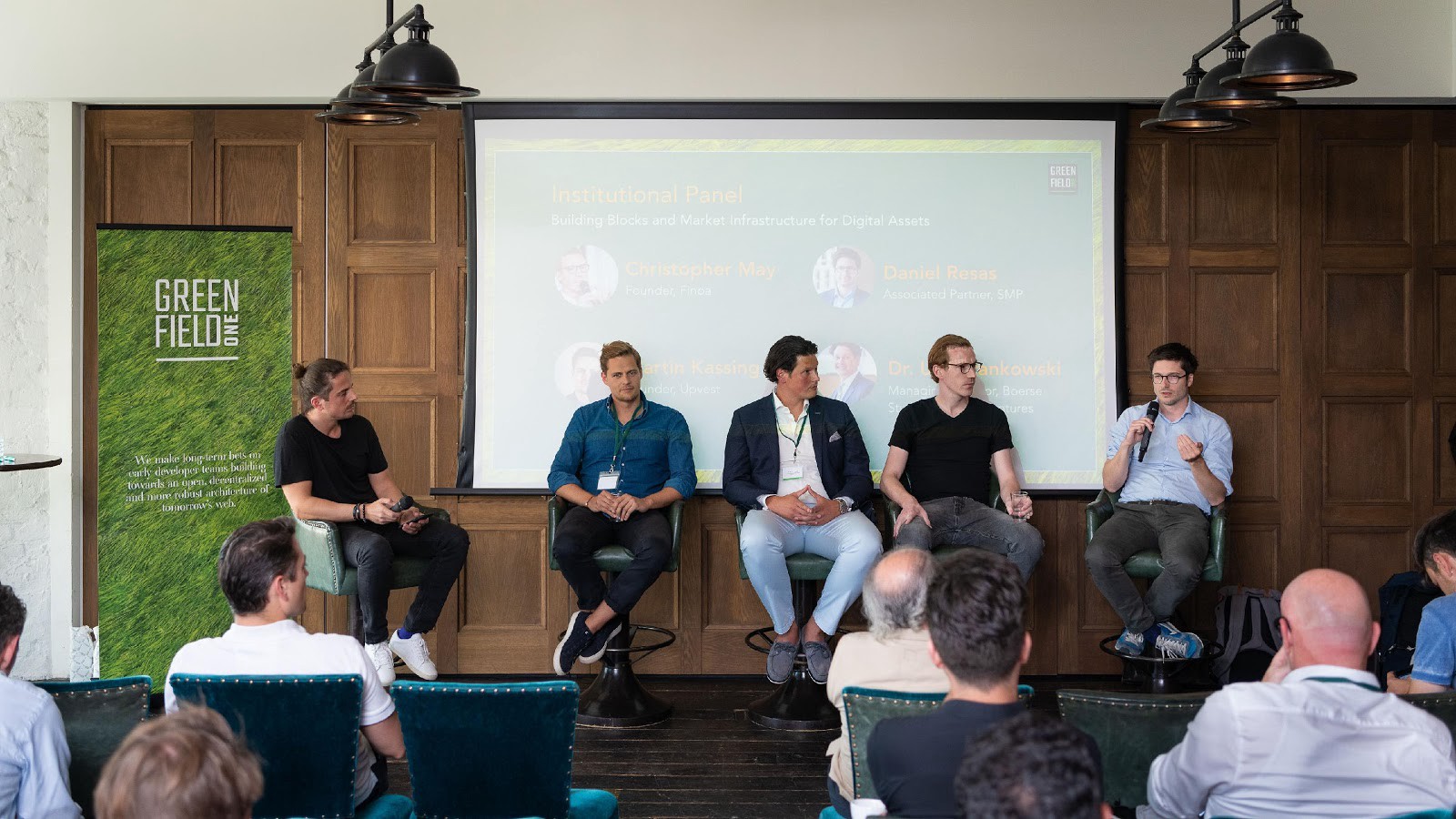 For the VC panel we were joined by Amir Mirzaee, Head of Family Office at Eisbär Capital, Jan Miczaika, Partner at Holtzbrinck Ventures, Kartik Talwar, General Partner at A.Capital and Julian Gropp, Principal at Hashed.
Amir shared a lot about the family's investment strategy — coming from a third generation business in Chemicals, diversification is very important for them as well as being able to learn early on. This is reflected by their portfolio of direct as well as fund investments, including crypto. He believes that for learning purposes it is important to allocate to crypto at this early stage but due to the complexity of the asset class it has to be managed by professionals with a dedicated focus on the space.
Crypto is a global phenomenon happening all around the world.
Being based out of San Francisco, Kartik shared with us how important it is in crypto to have a view on the world. He tightly follows other global crypto communities and hubs also through his role with ETH Global, a series of global hackathons within the Ethereum developer community, most recently being held in Berlin as part of Berlin Blockchain Week with around 500 developers attending last weekend.
Representing one of Germany's largest and best known venture funds Jan shared the firm's investment focus with us covering anything from internet consumer, enterprise Saas and mobility. Given their investment into Upvest they have deeply looked into blockchain and crypto, but haven't made any token-based investments into protocols yet as the fund would not allow for that in its current generation.
Based out of Seoul in Korea, Julian added a lot of insights from an Asian perspective to the panel — the firm has recently focused more on blockchain games as well as DeFi and has a broad perspective with their teams in Asia and San Francisco. Berlin as he believes is clearly one of the global hubs and having German roots himself he couldn't be more happier about that.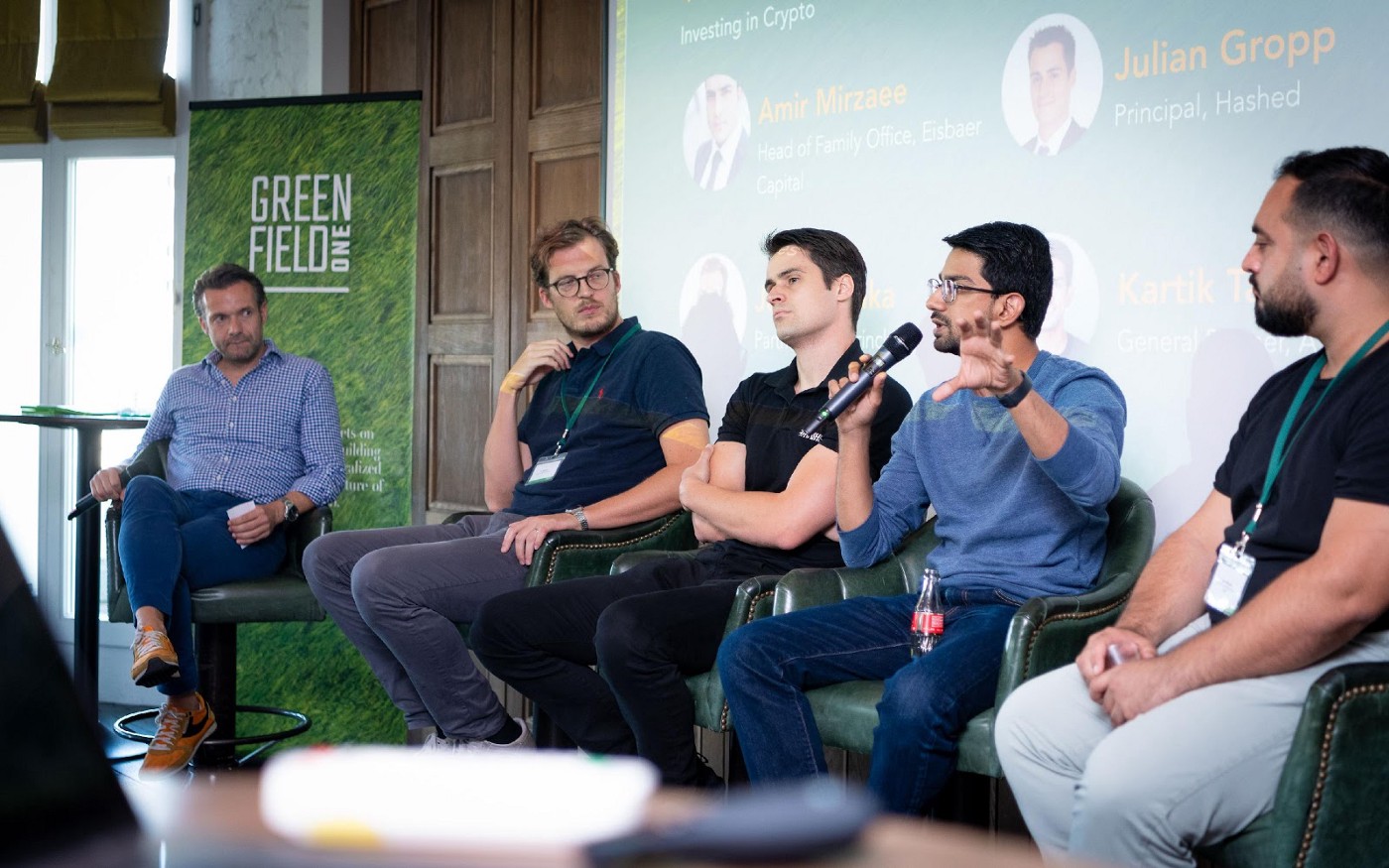 Last but not least, with Rene Reinsberg from Celo we had an unique founder with an incredible vision on stage. We talked a lot about developing countries and how an open financial platform like Celo could help people in those markets getting access to a financial system and what role mobile phones play in this regard by being able to provide a stable crypto asset paired with an identity solution through Celo's platform.
Rene also shared his view on Facebook's recent Libra announcement, why it is good for the industry as a whole and where he believes Celo stands out given its truly open and permissionless design. Celo already has an office in Berlin with part of the core team being based out of there. Berlin's scene is strong and the city has everything developers love, as he points out.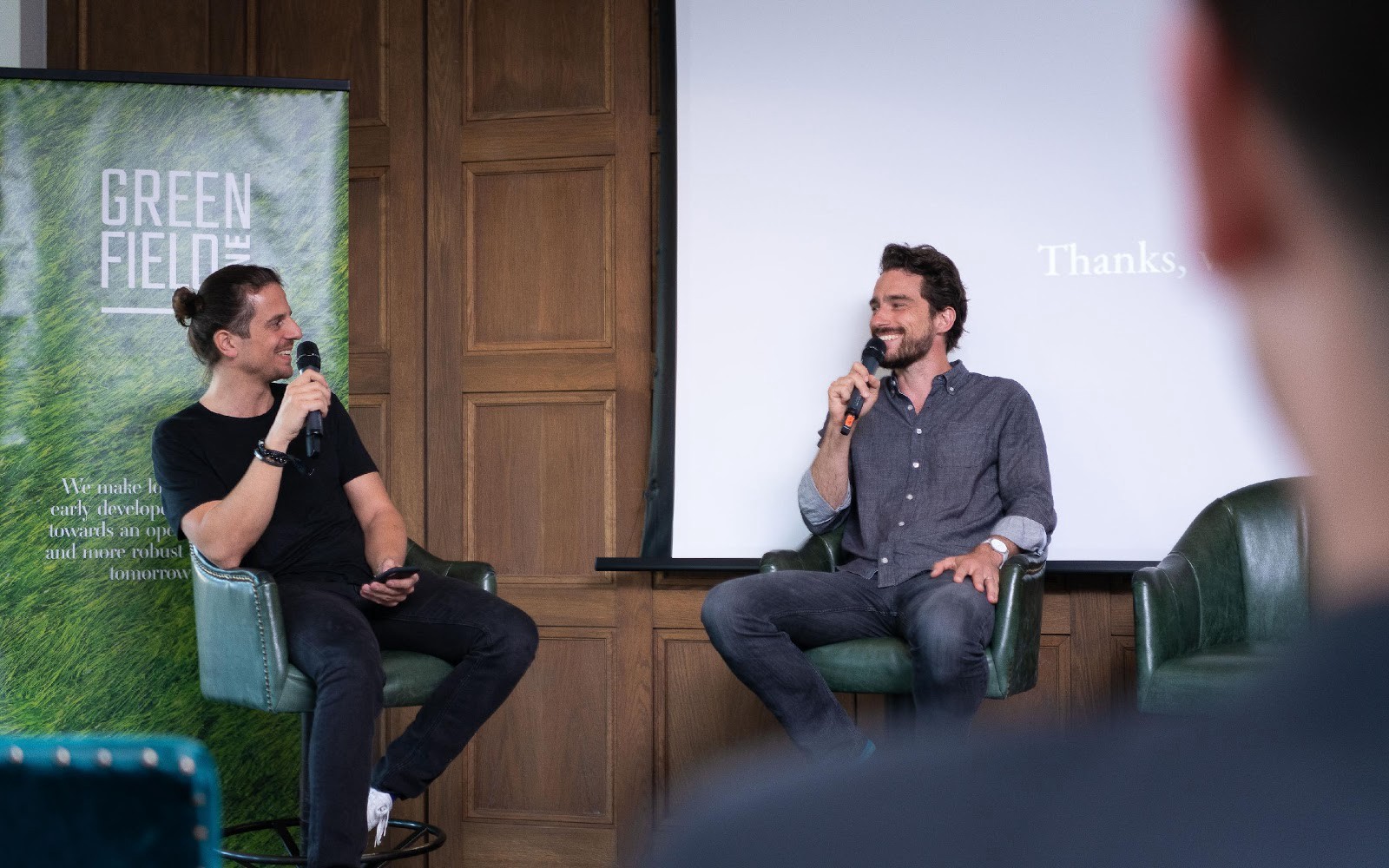 Obviously we did close out with dinner and drinks and lots of ongoing conversations and discussions among all the participants. It has really been a really great first Greenfield One Summit with very insightful stories and perspectives that were shared — we want to thank everybody who joined us for the day and special thanks to all the speakers.
For more photos click here — we will also be sharing videos soon.
See you all next year!